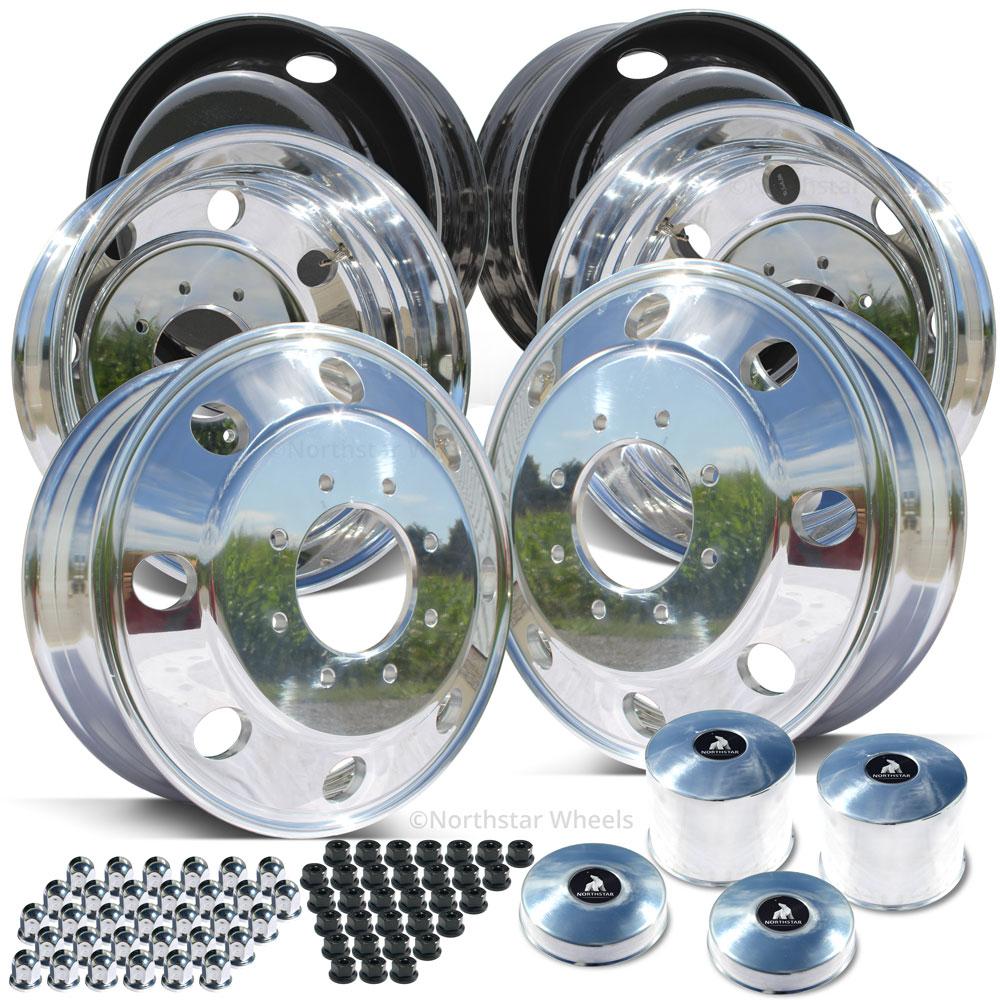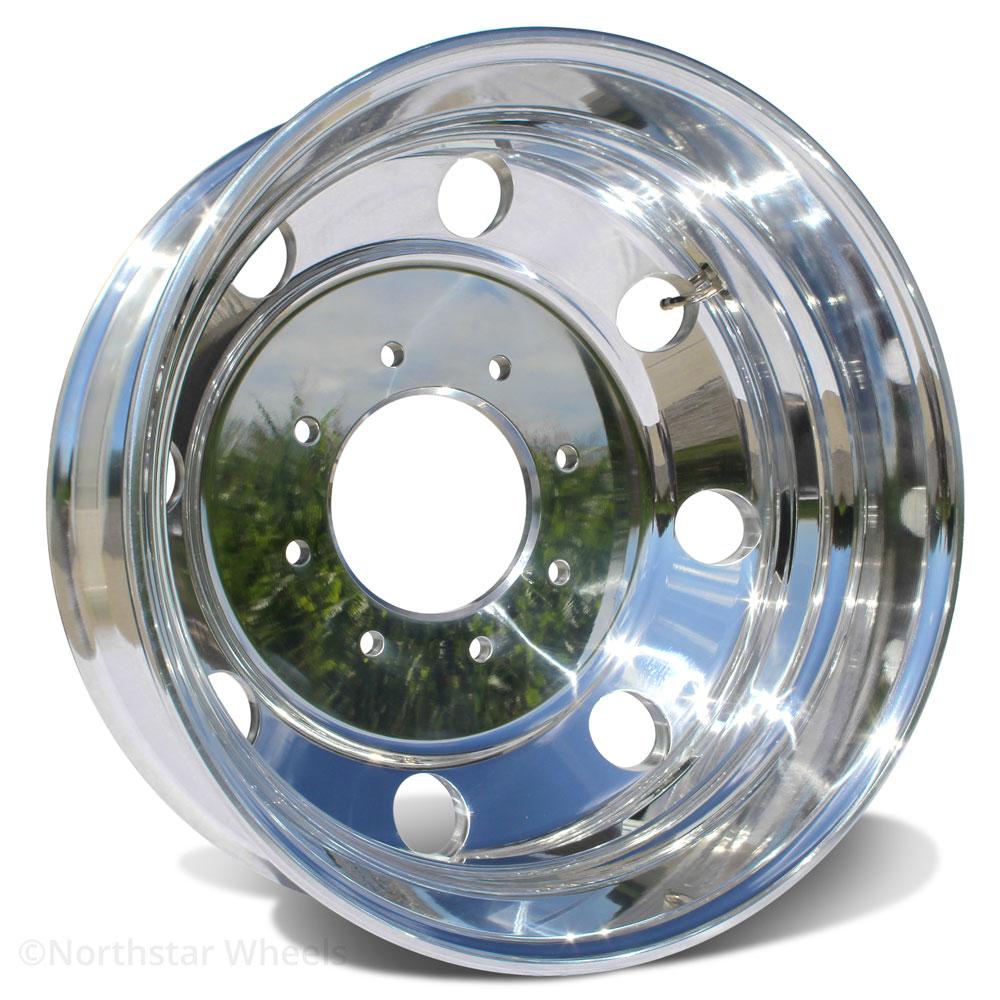 Guaranteed Fitment

Always the correct part

In-House Experts

We know our products

Added Value

Mounting, Balancing

Free Delivery

Fast shipping on all US orders*
Toyo Highway Tread 19.5 for Older Dodge 350 8 x 6.5" DRW Trucks (1969-1993)
Free Shipping on All Orders!
Set of Toyo M-143 Tires, Mounted on Northstar 19.5 Polished Aluminum Wheels for 1969 to 1993 Dodge 350 Dually (8 x 6.5). Kit Includes Steel Inner Duals, Lug Nuts & Covers. Tires Balanced 225/70R19.5 12-Ply with a Straight Highway Tread. Free Shipping!
Customers are Viewing this Product
Kit Includes:
6 - Toyo M143 225/70R19.5
4 - 19.5" Polished Aluminum Wheels
2 - Rear Inner 19.5" Steel Wheels
2 - Front Hub Covers
2 - Rear Hub Covers
32 - Lug Nuts
32 - Stainless Steel Lug Nut Covers

All Assemblies Come Pre-Balanced
(Learn More)
*For Recommended Kit, Items could change based on kit chosen
These all position tires were made to outlast any other on our list of Older Dodge D350 DRW kits and have a 66-month warranty to prove it. Toyo made sure it'd have a long and even tread wear by building it with a wide-belt construction and stable outer ribs. They also produced a special heat-resistant compound and combined it with stone-ejector grooves to extend the tire and casing life.
We'll mount them on Northstar Wheels made of fully forged aluminum, hub centered, and finished with a mirror polish. All sets are compatible with your OE center caps.
Wheel Options:
Northstar 19.5 x 6
Brand: Northstar Wheels
Wheel Size: 19.5" x 6.00"
Bolt Pattern: 8-Hole 6.5"
Hub Bore: 4.88"
Finish: Mirror Polish Both Sides
Weight: 40 lbs
Max Load & Inflation: 4000 lbs @ 110 psi
Backspacing: 8.32"
Black Steel 19.5" Inner Wheels (Part # 600224)
Comes with Steel Lug Nuts and Stainless Lug Nut Covers
Steel Wheels
Brand: Jansta
Wheel Diameter: 19.5"
Wheel Width: 6.00"
Bolt Pattern: 8-Hole 6.5"
Hub Bore: 4.88"mm
Finish: Painted Black
Weight: 65 lbs
Max Load & Inflation: 5000 lbs @ 110 psi
Backspacing: 8.32"
Does not include Hub or Lug Covers & Lug Nuts
Tire Options:
Toyo 225/70R19.5
Quantity: 6 Toyo M-143
Size: 225/70R19.5
Ply: 12
Max Load Single/Dual: 3640@95/3415@95
Overall Diameter: 32.1"
Tread Depth: 16.4/32"
14-Ply Avaiable upon Request

Are 19.5" Wheels Right for Your Truck? Click Here
Fits These Trucks:
1969 Dodge D350 DRW
1970 Dodge D350 DRW
1971 Dodge D350 DRW
1972 Dodge D350 DRW
1973 Dodge D350 DRW
1974 Dodge D350 DRW
1975 Dodge D350 DRW
1976 Dodge D350 DRW
1977 Dodge D350 DRW
1978 Dodge D350 DRW
1979 Dodge D350 DRW
1980 Dodge D350 DRW
1981 Dodge D350 DRW
1982 Dodge D350 DRW
1983 Dodge D350 DRW
1984 Dodge D350 DRW
1985 Dodge D350 DRW
1986 Dodge D350 DRW
1987 Dodge D350 DRW
1988 Dodge D350 DRW
1989 Dodge D350 DRW
1990 Dodge D350 DRW
1991 Dodge D350 DRW
1992 Dodge D350 DRW
1993 Dodge D350 DRW
Free Ground Delivery
We strive to get all orders out same day, if ordered before 2:00pm EST. We offer Free Shipping on all items, and ship most items on FedEx Ground. With multiple warehouses across the country most items are a 2 day transit time.
Bulk Orders
On orders of 12 wheels or more, customers must have a commercial address for bulk discount, or be willing to pick up pallet at local terminal.
Express Orders
On FedEx Express orders, Orders must be in by 1:00pm EST to give express delivery driver the 4 Hour window they require. Prices for express are displayed at checkout.
International Orders
We are happy to ship to our international customers. Just follow the checkout process and shipping fees will display at checkout with no obligation to purchase.
Returns
There will be a 20% restock fee on all returned items. Inbound and outbound freight is non-refundable. If you received free inbound freight that charge will be deducted from your credit. Full Details
If you have any questions don't hesitate to call or text 800-830-4547